Worksheet of the Week - Loopy Simple Substitution
by Ian Fisher
Posted on May 29, 2018 at 10:32
---
Hello,
Here is this week's 10ticks Worksheet of the Week; Loopy Simple Substitution (M16.91)
To view the worksheet, please click on the images or copy and paste the URL below into your Internet Browser. You must have an active 10ticks subscription and need to log in to your account to view any of our materials.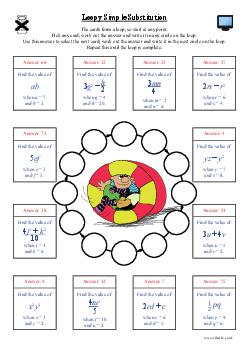 Worksheet Description
Cut out the cards and place them around the classroom or just use as a worksheet. Start at any card. Substitute the number into the expression, the answer leads to the next card. Stop when you have completed one circuit!
This worksheet is aimed at students in Year 7. It will also be appropriate for students in other Year Groups, of a similar ability level. It covers the topic Algebra
Social Media Share
We would love to see you and your pupils using this Worksheet of the Week. Please feel free to share any photos you may have of you and your pupils using our resources with us directly on Twitter (@10ticks) with the hashtag #10ticksWorksheetoftheWeek.
Please Note: If you choose to share any photographs of materials being used, please ensure that none of the children can be identified, as this may be classed as sensitive personal data, a breach of GDPR regulations. The Twitter app allows you to place smiley faces over any child's face that can be seen!
If you have any questions or need any help accessing the 10ticks Online Worksheet Licence, please do not hesitate to contact us and we will be more than happy to help.
Labels: Worksheet of the Week Loopy Simple Substitution Maths
---